About Us
Dr. Monkey's Ridiculously Good Caramels
Born in Durham, NC, our small-batch artisan caramels bring your tastebuds back to a time when candy wasn't filled with artificial ingredients and preservatives. Our Ridiculously Good Caramels are sure to please (unless you are that weirdo that doesn't like caramel).

Send them to a friend, or keep them for yourself!
Our Story
Years ago, my daughter asked me to make her some caramels when she was getting her braces off. As a single Dad with three kids, you will do anything to make them smile.  The caramels became a favorite with family and friends and before you knew it, I was selling them locally, creating heart-shaped caramels for weddings of friends and co-workers and shipping them to whoever fell in love with them. No matter who I made them for, I have always loved watching that smile appear when they try a caramel. Sometimes the simplest request turns into something amazing.   
Fast forward a few years, and everyone just continues to love them.  Dr. Monkey got remarried to the fantastic Mrs. Monkey and together we officially launched a business to see just how far this thing can go.  We have navigated a lot of new territory, new packaging, flavors, building a business together. We've met with countless people through farmers markets, local events and sharing our caramel through donations to our community and causes we support.  
We have been supported by other local businesses and even included in corporate gift baskets during the holidays (thanks Tonya).  
One thing is for sure, everyone who tries them absolutely loves them, except for those previously mentioned weirdos ;)
In 2021 we entered and won a blue ribbon in our division at the North Carolina State Fair!
In 2022, we were participants in the Emmys Giving Suite with Backstage Creations.  Each presenter and Emmy winner received a half pound bag of our Original caramels! We were interviewed by our local news station and have since participated in a few unofficial events such as an Oscars giving suite, and state-based pageants and won another ribbon at the state fair. Our hope is that the more people that try them, the more people will love them. We really hope that you give them a try, and fall in love with them too!
2023 holds all kinds of possibilities and we can't wait to see what unfolds! 
Dr. and Mrs. Monkey are Jeff and Bridget Levy. We reside in Wake Forest with our blended family of six kids (some are scattered across the country, but we are always home) and our fur babies.  We recognize how fortunate we are in so many different ways. Dr. Monkey's Ridiculously Good Caramel being just one.  We believe in supporting local and giving back to our community and causes we support.  We both have careers in the IT industry and enjoy cooking, spending time with family and friends and creating opportunities for happiness and smiles with our caramel.  Feel free to reach out to us at any time for feedback, requests, and if you know of a charity or event that we can participate in!
2022 Emmys Giving Suite Gift Bag with Backstage Creations!
2021 NC State Fair Award Winning!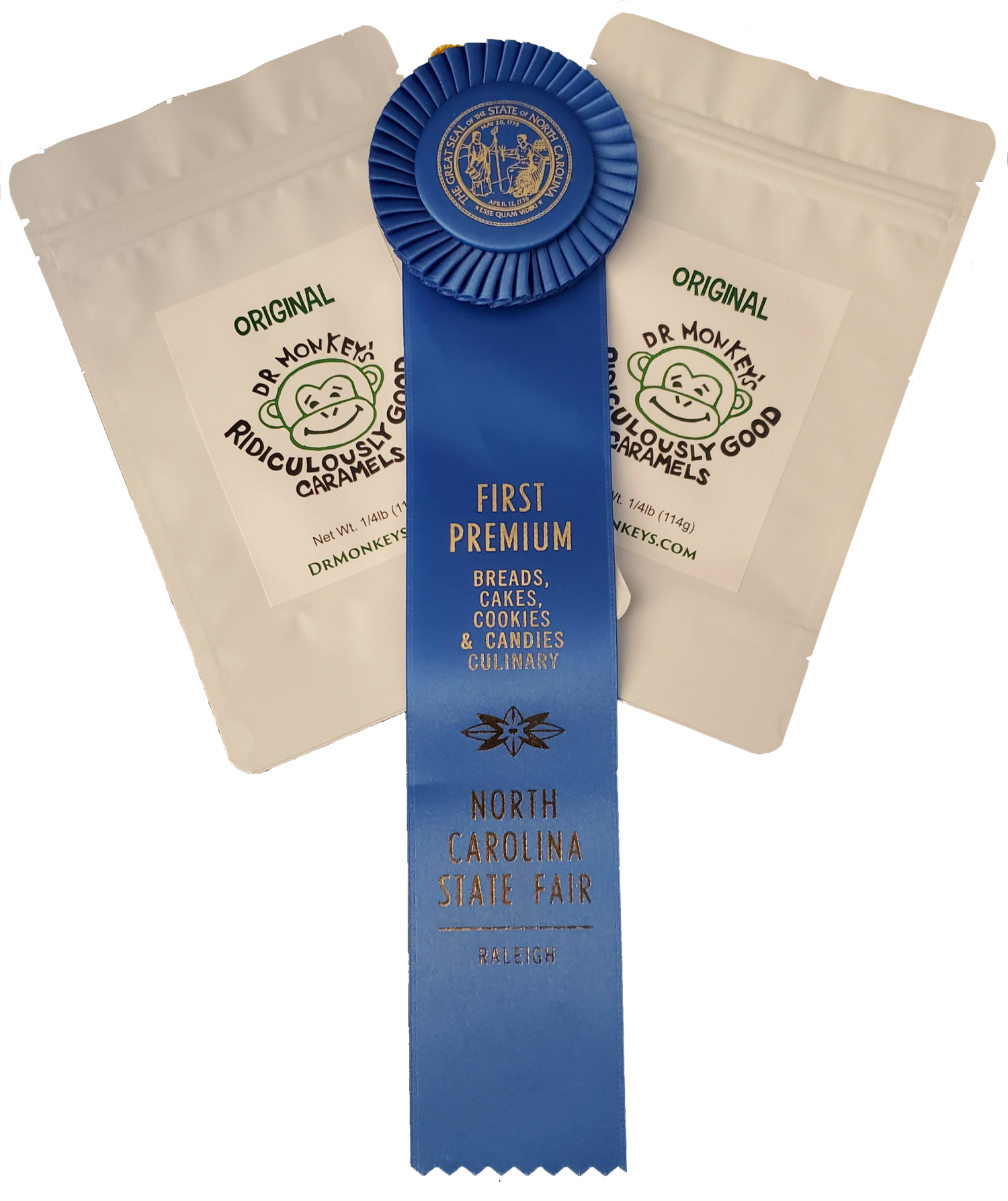 First Place Blue Ribbon Winner at the North Carolina State Fair!
Where we have sent them so far...